Working from home is much easier in a well-designed office. Increase your productivity by creating a luxury home office that suits your needs and your personal style. To help you determine your favorite decor style, I've rounded up a few examples of beautiful home offices in a variety of aesthetics. Which will be your favorite?
Minimalist
Increase your productivity by reducing distractions in a minimalist home office. A few key pieces in neutral tones are all that is needed to furnish a functional, attractive office. My Santa Monica Canyon listing features this stylish contemporary home office.
Dramatic
Photo by Atmosphere Interior Design Inc. – Discover home office design ideas
If minimalism isn't your style, you can go to the opposite end of the spectrum with a glamorously dramatic space. The dark patterned wallpaper contrasts against the white ceiling and trim, while warm metallics impart a sense of glam to the room.
Modern with a View
For a lighter, but still modern, vibe make the windows the focus of the space. This contemporary home office in Pacific Palisades features huge sliding glass doors leading out to an ocean view balcony. Draw inspiration from the beautiful vista to influence your work!
Traditional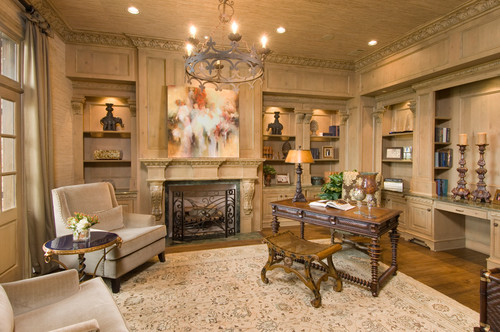 Photo by Sims Luxury Builders – Discover home office design ideas
For a more timeless home office, you can choose to decorate using traditional pieces and finishes. Ornate moldings add a stately ambiance to this luxurious space. The furniture features nail head trim and carved wood accents because small details are crucial to a traditional space.
Architectural
If you are lucky enough to own a home with strong architectural details, work with them not against them. My Beverly Hills listing includes a Spanish-style bell tower that has been converted into a home office. This one-of-a-kind office features gorgeous city views from the arched windows.
Transitional
Loving a little bit of all these decorating styles? Transitional decor might be for you. The transitional style pulls elements from traditional and modern styles for a look that pulls the best of each. The home office of my listing in Mar Vista feels comfortable and relaxed, creating the perfect environment for working from home.
Which of these home office styles suits your style the best? I'd love to hear your opinions in the comments below!